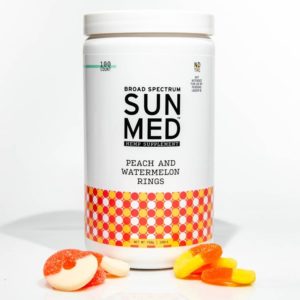 Peach & Watermelon Rings 2500mg/100ct/25mg
Broad Spectrum 25mg Watermelon and Peach Rings
SunMed Broad Spectrum 25mg Watermelon and Peach Rings are made with the highest quality, organically grown hemp. These delicious edibles are not CBD isolate; they are broad-spectrum hemp supplements, without the THC. As a result, consumers can gain the benefits of a full spectrum formulation without the THC.
Manufactured in the USA
2500mg total, 25mg a piece, 100 count
Broad Spectrum (ND THC)
 Watermelon AND Peach flavored rings
Ingredients: 
Hemp Extract, Corn Syrup, Gelatin, Lactic Acid, Citric Acid, Malic Acid, Fumaric Acid, Coconut Oil, Pectin, Natural and Artificial Flavors, Titanium Dioxide, Coloring Agents.
Food Allergy Disclaimer: 
Please be advised that our products may have come in contact or contain Peanuts, Tree nuts, Soy, Milk, Eggs, or Wheat.
*We are making no claims or assertions about the outcomes or accuracy of THC tests. We stand by our third-party lab reports that are certified iso 17205 and meet regulatory standards for our products.