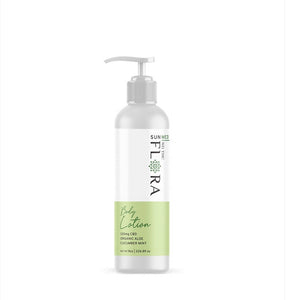 Moisturizing Lotion
Premium Body Lotion
Our Sunflora premium body lotion is made with quality, broad-spectrum hemp extract. Each batch is formulated using only plant materials and contains no synthetic ingredients. Hemp-derived products have become a focus in lotions due to the complex natural vitamins and cannabinoids present. This natural formulation merges plant ingredients with modern technology for a convenient topical lotion.
Two sizes: 30mg CBD 2oz–$10 and 120mg CBD 8oz– $20
Light, refreshing cucumber mint fragrance
Great skin-refreshing natural ingredients including Aloe, Gingko, and Green Tea
Made in the USA
ND THC
Food Allergy Disclaimer: 
Please be advised that our products may have come in contact or contain Peanuts, Tree nuts, Soy, Milk, Eggs, or Wheat.
*We are making no claims or assertions about the outcomes or accuracy of THC tests. We stand by our third-party lab reports that are certified iso 17205 and meet regulatory standards for our products.